Trusted by leading care providers.
Recognize your staff by awarding micro-bonuses for:
Integrate directly with your back-office systems to automate recognition.
STAFF GROWTH IN THE FIRST 90 DAYS
Caribou has quickly become our main source of care worker talent. In one month, Caribou generated 39 applications, which converted to 9 hires. We used to need roughly 100 applications on job boards to generate 1 new hire.
Always Best Care franchise owner
Caribou supercharges referrals by making it fun, engaging, and hassle-free to refer a friend. Here's our little secret: We reward staff for both effort and results. Staff earn points just for sharing a job opening with a friend and they earn even bigger rewards each time that friend moves further down the hiring process.
Download this case study to learn how a home care agency grew their care staff by over 17% in 90 days with Caribou Rewards.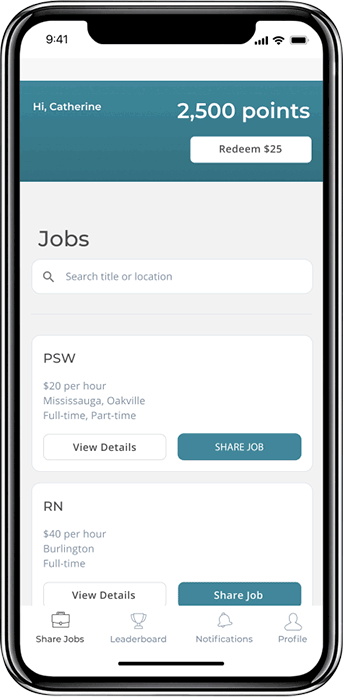 Recognize any staff, at any time, in a meaningful way with Caribou Rewards bonus points. Your care organization has a lot on its plate – we make recognition effortless and more effective. Simply choose which staff member you want to recognize and how many points you'd like to give out. Then, you can add a personalized message to let your staff know that you appreciate their contributions.
Reward loyal and
high-performing staff.
Don't risk losing your best employees. Motivate staff and retain them longer by rewarding them for the great work they do. Reward them when they hit retention milestones or when they work over 30 hours in a week. Performance-based rewards are the future of the care worker experience and we help you configure and automate them to suit your business needs.
Your office staff will love you.
Say goodbye to manually awarding, tracking, and paying out staff rewards. With a simple user experience, and integrations with scheduling systems like AlayaCare, we take care of the heavy lifting. Never miss paying out a referral bonus again.
Care staff love Caribou Rewards for its simplicity and meaningful recognition. Care organizations using Caribou Rewards see a positive impact on client service quality and staff members' sense of value, purpose, and passion for their work.